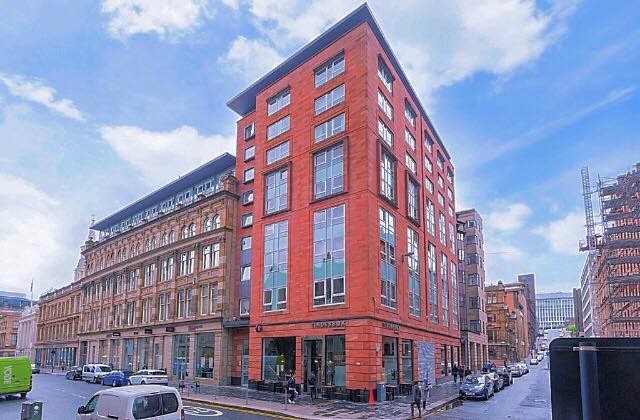 Ingram Apartments
Glasgow City Flats manage three, two-bedroom properties and one, one-bedroom property in the McIntyre Hogg Building in Glasgow City Centre.  The Ingram Apartments are hugely popular with both our holiday and leisure guests and also our business travellers.  They provide an excellent central location in a home away from home environment in the heart of the Merchant City.  The whole family will be kept entertained with the array of shops and landmarks that are on your doorstep should you choose to stay in this building.  The apartments all boast exceptional internal furnishings and décor.  With king-size beds in each of the apartments and a contemporary bathroom suite and tiling, the Ingram Apartments should allow you to relax in comfort and luxury during your stay in Glasgow.
The Building
Glasgow City Flats manage a total of four apartments in this building.  Each of these properties are located between the second and fourth floors.  The building has security entry and an elevator with quick access to all floors.  There are stairs in the building also should you require.  The building complex also comprises a secure underground car park which you can book for a small additional fee.
The Location
Just 200 metres from George Square, these beautiful apartments are set overlooking Ingram Street; home of Glasgow's many fashion houses such as Mulberry, Ralph Lauren and Hugo Boss.  The Merchant City district is also known for the vast range of restaurants, coffee shops, galleries and venues. In short it is the best place to be.  The Merchant City is one of the most vibrant areas in Glasgow and is full of diverse and interesting buildings, cafes and restaurants.  It is a preferred location to both professional and artistic residents with a number of small galleries and theatres in the area.  It is also home to a number of high end boutique style shops and more famous international labels.  The apartment looks onto to some of those landmark buildings that were home to the City's Merchants during the 19th Century.
The annual Merchant City Festival and Celtic Connections attract a growing number of visitors each year who enjoy concerts, Scottish Ceilidh dances, comedy events and exhibitions at venues, including the Tron Theatre, the Old Fruitmarket, the Trades Hall, and St. Andrews in the Square.
Contact our office for more details on our apartments/services or if you would like to book to stay in our Ingram Street Apartments.
Glasgow City Flats
Tel: 0141 226 3534
Email: enquiries@glasgowcityflats.com
Website: www.glasgowcityflats.com