If you're staying in Glasgow for a Winter break, you'll be wanting to know about the Christmassy events you can attend to get into the festive spirit.  
There are a lot of events going on in Glasgow over the Winter suitable for all ages. Below, we've listed our top suggestions so be sure to wrap up warm and grab your favourite Christmas jumper before heading out!  
Elfingrove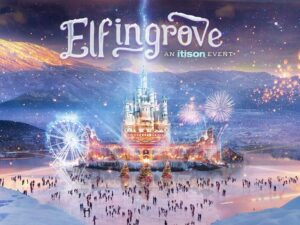 Elfingrove is the UK's biggest ice rink and is the perfect event if you're looking for a daytime or evening activity. The rink is located at Kelvingrove Art Gallery & Museum and opens on the 24th of November with a month-long run of skating under the stars.  
Ticket prices vary depending on the date and time you're going: 
£8 per child or £10 per adult (early bird prices)  
24th Nov – 2nd Dec 
12th – 15th Dec (10 am to 4 pm) 
19th – 20th Dec (10 am to 4 pm) 
£12 per child or £16 per adult (off-peak prices) 
3rd – 9th Dec 
12th – 16th Dec 
2nd – 6th Jan 
£14 per child or £18 per adult (peak prices) 
9th – 11th Dec 
16th – 24th Dec 
26th – 31st Dec 
7th – 8th Jan 
 If you need to refuel after you've dashed around the rink, they have a restaurant on-site as well as an abundance of hot chocolate and several other Christmassy food stands.  
To book your tickets, see their event site here.  
Glasgow Christmas Markets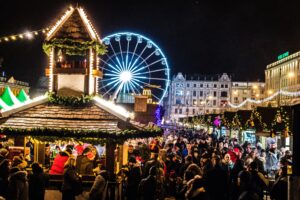 If you don't fancy playing Bambi on ice, the Glasgow Christmas Markets might be something to explore during your time here as they are running from 1st December to 8th January.   
There are two main Christmas markets to explore when you're out and about in Glasgow. These include George Square and St Enoch Square. George Square is the larger market, but St Enoch has plenty to offer as well.  
If you're still up for ice skating, there's an open-air ice rink and for those not fearful of heights, there's also a Ferris wheel that provides views across the city.   
As well as attractions, you'll also find delicious food and treats to tuck into, such as luxury hot chocolates, crepes, and wraps. No matter what your preference is, there's something here for everyone.  
Learn more about the markets here.  
Santa's Grotto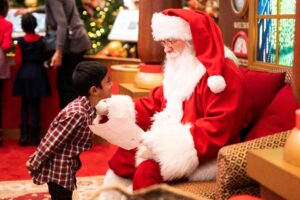 If you have little ones with you, there's no better place to take them than Santa's Grotto. The Grotto is located in Dobbies and costs £7 when pre-booked and £8 on the day.  
You and your children will make your way through a snowy forest, greeting and helping elves along the way. When you arrive at the Grotto, you'll get to meet Santa himself and will even receive a special gift! 
See more about Santa's Grotto here.  
Where Will You Be Staying? 
With all these activities to do, you'll need a comfortable base to retreat to. We have a selection of serviced apartments around Glasgow City Centre and the West End that can accommodate you during your stay.  
To book your winter getaway, check our availability now.