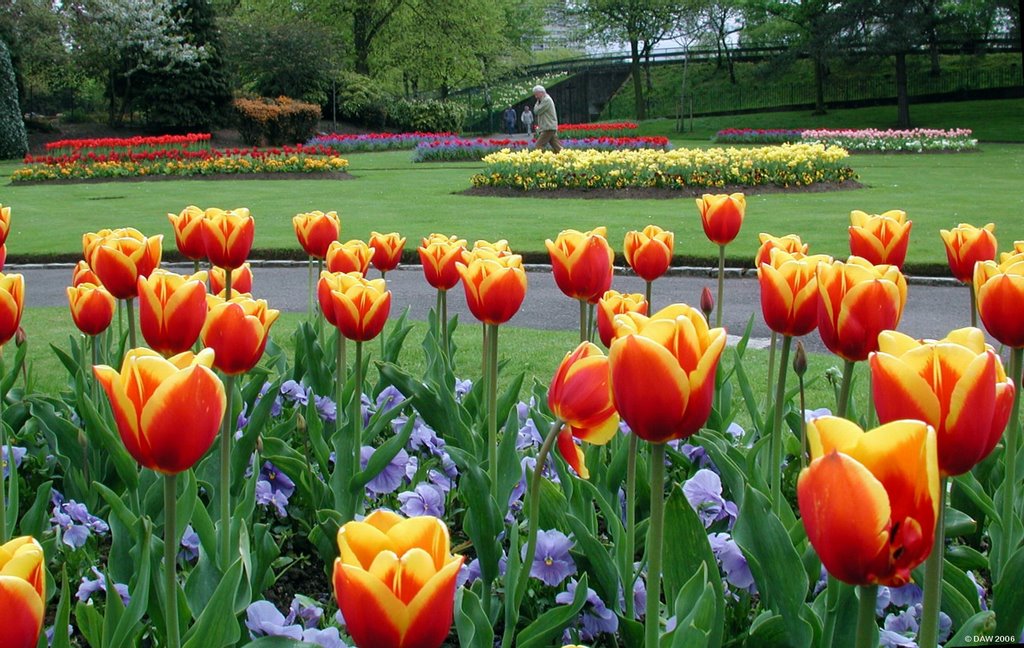 Spring is in the air! After a long winter, we are happy that we are finally heading into the new season and hopefully some warmer weather too.  Spring is a beautiful season in Glasgow and a perfect time to visit our City.  Contact our office for more information on our available apartments or to book accommodation for your spring vacation.
Don't forget to move your clocks forward by one hour tonight!
Have a look below at some of the famous clocks and clock towers you will find around our City:
Clyde Clock
Created by Glasgow artist George Wyllie, the Clyde Clock is an interesting statue made from stainless steel.  Aptly positioned outside Buchanan Bus Station, the statue is made up of a pair of running legs with a cube clock as a body resembling the masses of passengers running to catch buses from the station.  The work was commissioned by the local radio station, Radio Clyde, to celebrate their 25 years of independent broadcasting.  Wyllie designed it to chime just once, at 8pm, which he considered to be the ideal meeting time.  Rather superstitiously, shortly after Wyllie passed away in May 2012, the clock stopped working however, Radio Clyde launched a successful campaign to get the clock back to working functionality soon after.
Glasgow Central Station Clock
Glasgow Central Station is a focal point for many as it provides the route into Glasgow from both the outer areas of the City and from much further afield.  The famous Glasgow Central Station Clock is suspended from the roof of the station and is probably the most noticeable and popular feature.  For decades, it has served as Glasgow's number one rendezvous points.  The original four-faced clock, which was 15ft high with elegant  wooden framework and a lead-sheathed cupola, was replaced in 1962 but it proved unpopular.  A replica of the original was put in place in 1992 and remains a favourite to this day.
Trongate Clock Tower
Built as part of a church in 1529, the Trongate Steeple is another of Glasgow's finest historic gems.  The seven-storey Trongate Steeple is Glasgow Cross's most important feature and it is topped by a blue clock.  This was once part of a much larger building, the Tolbooth, which provided accommodation for the Town Clerk`s office, the council hall and the city prison.  The Trongate Steeple stands on a small "traffic island" and dominates Glasgow Cross. The building has been used as a theatre since the 1970s, with very few original features remaining on the inside.  The Trongate Steeple remains one of the oldest and most valuable buildings in the City Centre.
Don't forget to move your clocks forward by one hour tonight!
Contact our office to book to stay in Glasgow for a relaxing Spring Weekend this year.
Glasgow City Flats
Tel: 0141 226 3534
Email: enquiries@glasgowcityflats.com
Website: www.glasgowcityflats.com