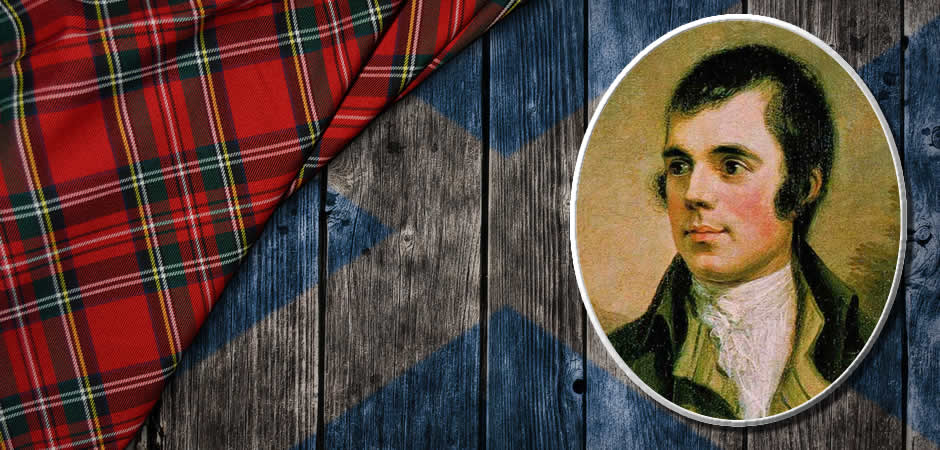 Robert Burns Day
Every year, Scotland leads the world in the celebration of the life and legacy of one of the most famous literary figures – Robert Burns (or Rabbie Burns as he is known locally).  The Selkirk Grace (as detailed below) is a traditional Robert Burns prayer said before eating, traditionally on Robert Burns night (January 25th).  Celebrated annually on this date, Burns Night gathers Scots and Scots-at-heart around the world to pay tribute to the great poet's life and works, and the holiday is marked by a jam-packed programme of festivities across the country.
Who was Robert Burns?
The eldest of seven children and the son of two farmers, Robert Burns was born in 1759 in Alloway, Ayrshire.   His father recognised the importance of education and so Robert, along with his brother Gilbert, was locally schooled as well as working on the family farm.  There were signs of his greatness from an early age; as a boy he became an avid reader and developed a flair for writing.  By the age of 15 he'd penned his first love poems, written to the daughter of a neighbouring farmer.  Throughout his life, women were one of his greatest passions with hundreds of lines of verse dedicated to females.  Burns went on to father 12 children, nine with his wife Jean Armour.
Burns Supper
Nine of the poet's friends gathered in the Alloway cottage where he was born on July 21, the date of his death.  The party's intention was to 'offer tribute to the memory of departed genius'.  The group decided to honour the poet on what they thought was the anniversary of his birthday – January 29 1802.  However, the following year they discovered in Ayr Parish Records that the true date was in fact 25 January.  Since then, celebrations have taken place on, or around, the historic day of Robert Burns' birth.
The perfect antidote to a cold, dark late January night is a Burns Supper. Burns Supper evenings are warm and merry affairs, filled with fervent speech-giving, poetry recitals and plenty of food and drink. For many, the highlight of the evening comes with the arrival of the haggis.  Scotland's national dish takes centre stage, as the words to one of Burns' most well-known poems, Address to a Haggis, are ceremoniously recounted for all to hear.  His catalogue of poetry and songs was broadly written in Scots dialect and on reading Burns' poetry, it is common not to understand all of the words, but still grasp the theme of the poem.
The Selkirk Grace
The Selkirk Grace is a prayer said before eating at a Burns supper which is dedicated to the poet himself.  Although the text is often printed in English, it is recited in Scots to usher in the meal.
Traditional Attire
During formal Burns Suppers, guests are often expected to don evening wear or full traditional Scottish dress.  Women often wear a traditional tartan plaid wrapped over a plain dress and then secured with a brooch. Alternatively, a tartan dress, skirt or other garment might be worn.
For more relaxed events, how you dress is entirely up to you.  Give yourself a distinctly Scottish look by sporting a kilt, or perhaps wear some garments made of Harris Tweed. Smaller items, like a tartan bow tie or some ribbon, are ideal for adding some subtle touches.
You can join in with the traditional festivities at many restaurants across Scotland that host formal Burns Night dinners.  It iss an entertaining evening of fantastic food, delectable drams, dancing and rousing verse.  If, however, you wish to host your own Burns Supper, the Visit Scotland website provides a very good article on everything you need to hold your own Burns Supper.
The team at Glasgow City Flats wish everyone a happy Rabbie Burns Day and a great day of Scottish celebrations in memory of the famous Scottish poet – Robert Burns!
Glasgow City Flats
Tel: 0141 226 3534
Email: enquiries@glasgowcityflats.com
Website: www.glasgowcityflats.com