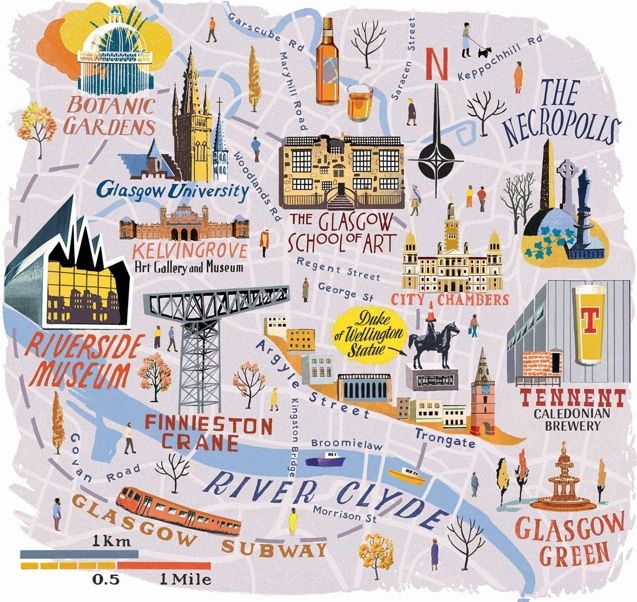 Whether you're planning on wandering the momentous shopping malls, dining on hearty Scottish cuisine or having a nosey around its memorable museums, Glasgow has something for every traveler. With a modern, regenerated City Centre and quayside – as well as a growing reputation as a tourist hotspot – travellers can find a spectrum of accommodation options when visiting Scotland's largest city.  Glasgow City Flats can offer fabulous accommodation for every occasion however, where are the best places to stay in Glasgow?  Merchant City?  Finnieston?  West End?  Financial District?  This short blog post should outline each of these areas in detail and ensure you are able to make a more informed decision when choosing accommodation based on location within Glasgow.
Merchant City
Glasgow's Merchant City is the medieval Centre of the city that began sprawling to the West as the city grew in wealth. The Merchant City is one of Glasgow's oldest quarters dating back to the 1750s when it was home to the warehouses of wealthy traders.  Having enjoyed a renaissance in recent years, it is now full of cool bars, restaurants, boutiques and galleries. With the grand Tolbooth Steeple at its heart, the historic surrounding streets are lined with chic cafes, high end fashion stores and independently run bars.
Glasgow City Flats can offer an array of properties in the Merchant City for your stay.  Have a look at our website for more information however, we would recommend Virginia, Palazzo and Ingram to name a few!
Financial District
Glasgow's International Financial Services District is a world-class business location within the City Centre.   This area holds the majority of banking, recruitment and corporate businesses within the city and is an ideal location if you are visiting the City for business.  Although there is no definite boundary, and any accommodation within the City Centre would be accessible (most likely by foot) to the financial district, it is said to span approximately 1 square kilometre of the City bounded by the M8 Motorway to the West, the River Clyde to the south and Hope Street to the east.  This has given rise to the area's nicknames in the popular press: the Square Kilometre (in reference to the "square mile" of the City of London), and more the popular and widely used Wall Street On Clyde.
We would recommend Brown Street and Pinnacle apartments for your business stay in the Financial District.  With easy access to many multi-national corporations, these apartments are ideal for your corporate stay within the City.

City Centre
If you want absolutely everything to be on your doorstep or if you are going to be short on time, the City Centre is your best option for accommodation.  Glasgow City Centre is as convenient as you could possibly get, with two train stations smack bang in the middle of the City and also a plethora of fantastic bars and restaurants within walking distance.  If you do need to venture further afield (outwith walking distance), an array of Ubers and taxis are available at various taxi ranks around the City.  While Glasgow City Centre feels more like a 'downtown' and less like a 'neighbourhood', it's a vibrant and convenient place to base yourself for a night to several days in Glasgow.  The City Centre is probably the best area to stay in Glasgow for a first-time visit.
The highlights of the City Centre include Central Station and Buchanan Street bus station which connect you to the rest of Scotland with ease.  Another major part of the tourist sites here is the Cathedral, Necropolis, George Square and many museums and galleries.  There are two main shopping malls in the City Centre, Buchanan Galleries and St Enoch Centre.  Aside from the major tourist attractions, there are lots of restaurants and cafes available on your doorstep in the City Centre.  From small independent cafes to larger chain restaurants, there is something to suit everyone's dining preferences.
If you're coming to Glasgow for the first time, the city center is one of the best areas to stay in Glasgow. Similarly, it's a great spot to stay for a short overnight or two-night stay in Glasgow, especially if you're arriving by train.  Contact us to hear our recommendations on the best apartments to stay in order to experience 'City living' during your visit.
Our most popular City Centre apartments are Argyle, The Bridge and Atlantic Quay
Riverside
The River Clyde is a river that flows into the Firth of Clyde in Scotland.  It is the eighth-longest river in the United Kingdom and the second-longest in Scotland.  Traveling through Glasgow, it was an important river for shipbuilding and trade in years gone by.  Clyde shipbuilding came to the fore during the early 20th century with massive output during the First and Second World Wars.  Once a hub of industrial activity, recently, a massive are regeneration has given way to recreational projects and residential buildings.  Examples of the regeneration movements are the new Glasgow Harbour development and the Hydro Arena which are both easily reachable from the walkways along the river banks.  Furthermore, the new BBC, STV and Glasgow Science Centre can all be reached within 10 minutes walking time by using the creative pedestrian bridges.
For fantastic views of the River Clyde, we would recommend Vantage, Lancefield Quay, Metropole, and Carrick Quay all of which face out on to beautiful views of the water which are particularly picturesque during a clear day!
Shopping District
For all of the shopping enthusiasts, Glasgow's Buchanan Street has been rebranded as the 'Style Mile' and is the best shopping street outside of London offering shoppers high street, designer and boutique brands.  Glasgow is a shoppers paradise, with the city catering for all tastes and budgets.  With over 200 stores in the one street, it's a shopaholic's paradise!  The majority of the city's stores can be found in the city centre in Glasgow's Style Mile, where an extraordinary concentration of shops make their home. Here you will find leading individual stores as well as shopping centres and premier department stores, such as  Debenhams and House of Fraser.  If you wish to visit Glasgow to do some serious shopping, then this is the street that you want to be near.
For the opportunity to stay ON Glasgow's Style Mile during your stay, see our Buchanan Apartment which is located on Buchanan Street.  An array of high street shops will be on your doorstep for your visit.  A shopaholic's heaven!
West End
Bisected by the River Kelvin and a more suburban setting for your stay, Glasgow's West End is a fashionable district with plenty of quaint shops, cafes, bars and parks. The area is only a short subway ride form the City Centre but has a quieter, more picturesque charm.  Mixing old money with student hot spots, the West End is a nice mix of vintage shops, sweet boutiques, great pubs, cocktail spots and beautiful buildings.  The West End is also home to Kelvingrove and the University of Glasgow.  If you're coming to Glasgow for a boutique shopping weekend or want to be spoiled for choices when it comes to restaurants and bars, then staying in the leafy West End would be your best option.
If you wish to book one of our West End apartments, we would recommend Kelvingrove and Park Circus.  Both are located in the heart of the West End and allow easy access to Kelvingrove and the Botanic Gardens.
Finnieston
In between the West End and Glasgow City Centre, Finnieston is dense with pop up bars, chic restaurants and some of the best shopping in the city. Refreshed by years of investment, Finnieston has blossomed into one of the trendiest and most affordable districts in Glasgow.  Proclaimed one of the hippest places in Britain by The Times recently, Finnieston is cool and getting cooler without much gentrification push-back thus far.  Mixing old-school working class spots with craft beer bars, hipster restaurants and boutqiue shopping, Finnieston is hipster Glasgow embodied, without being pretentious.  If you want to stay in Finnieston, pick somewhere close to Argyle Street.  Of note, Finnieston is also home to The Hydro, and is thus the best place to stay in Glasgow for a concert at the venue.  There is a nice selection of properties available through our website within walking distance of The Hydro along the river.  This is probably the best place to stay for your concert/event at The Hydro!
If Finnieston is the location for you, we would recommend our Lancefield Quay apartments.  Located within walking distance of The Hydro and boasting views of the River Clyde, you are set to have a fabulous stay here.
Contact our office for more details on our apartments/services or if you would like to book to stay with us during your visit to Glasgow.
Glasgow City Flats
Tel: 0141 226 3534
Email: enquiries@glasgowcityflats.com
Website: www.glasgowcityflats.com