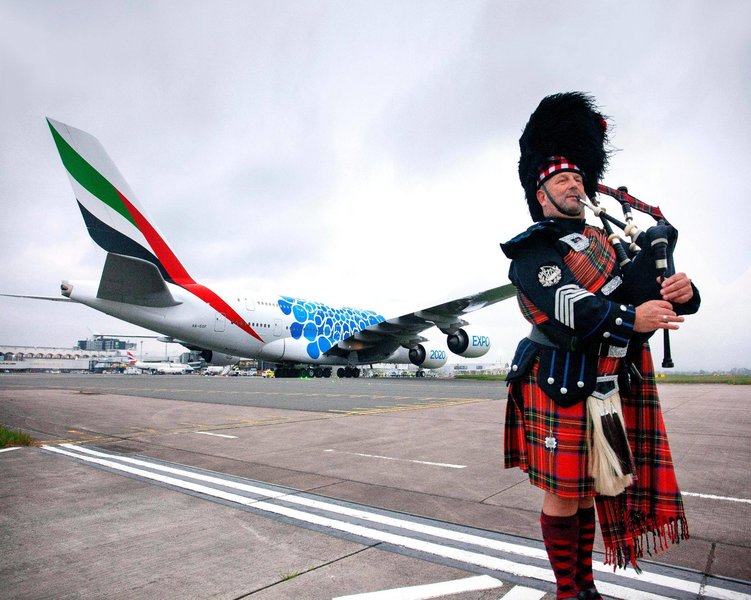 Glasgow Airport were proud to make history with the arrival of the iconic superjumbo Airbus A380 in Glasgow yesterday marking the start of the first ever scheduled A380 service to Scotland.   Arriving daily into Glasgow at around 7:45pm, the six month service also coincides with Emirate's 15th anniversary of flying from Glasgow Airport.  Avid plane enthusiasts were spotted at various locations around the airport in anticipation of the superjumbo's arrival and onlookers were not left disappointed as the huge double decker glided into the airport!
The debut for the double-decker plane on Emirates' Dubai route is likely to provide a much-needed boost for Glasgow, which expects to lose nearly one million passengers from Ryanair and other airlines scrapping routes.  Emirates said the A380 would fly the route only until 30 September, but it is expected to return next year.  The A380 has been drafted in while one of Dubai's runways is closed for upgrading, restricting flights.
Glasgow Airport has described the route as one of its "biggest success stories", carrying more than four million passengers, many flying on from Emirates' Dubai hub to Asia and Australia.  The airport has spent more than £8 million on improvements to accommodate the aircraft, including a triple air bridge to cope with the volume of passengers.
Inside the Emirates A380
Customers travelling to and from Scotland's biggest city on the A380 – the world's largest commercial aircraft – can expect "more space across all classes," bosses promised.
Standing over 24 metres high and with a wing span of nearly 80 metres, the massive double decker aircraft will have a three-class cabin configuration, offering 14 private suites in first class, 76 lie flat seats in business, and 399 seats in economy.  First class customers will have exclusive access to an on-board shower spa, while first and business class passengers can enjoy an on-board lounge where they can socialise with other travellers.