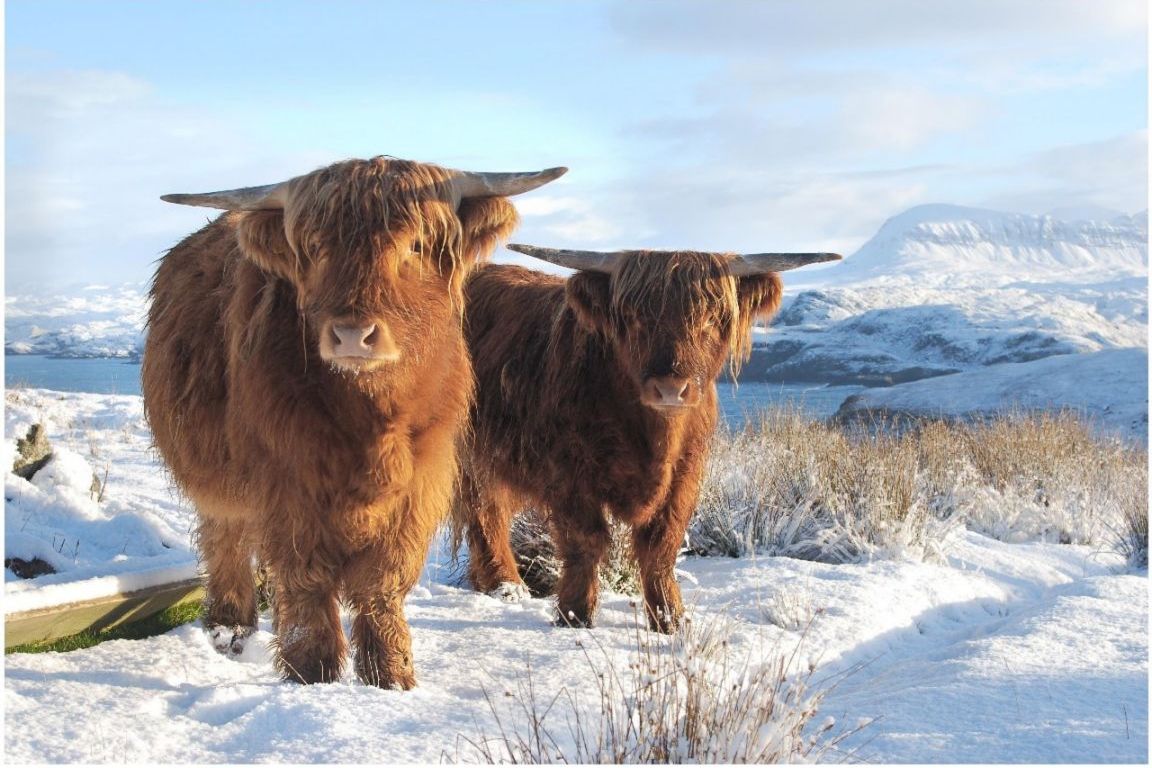 Scotland is known for its wonderful landscapes and beautiful scenic views and in winter it is even more magical.  With a unique combination of winter events, festivals, landscapes, food, drink and more, Scotland makes a pretty special package during the winter months.  No one does winter quite like Scotland and it really is a wonderful country to visit for a Winter Break.  We believe that it is the prettiest place to visit during the festive season so, if you need any more persuasion, see our top 10 reasons below to visit Scotland in Winter:
1) You can visit fairy-tale castles in a fairy-tale setting
All castles look more romantic and fairy-tale like in winter and you can view them first-hand during your visit to Scotland.  Edinburgh Castle, Stirling Castle and Culzean Castle are just a few of the castles available for you to visit during your stay.  All accessible from Glasgow, you can spend a day exploring each Castle and learning about Scottish history and culture in a magical winter setting.


2) You can discover some beautiful winter landscapes
If you are feeling adventurous, you can rent a car and drive to some of the beautiful lochs in Scotland.  The scenery is truly breath taking and definitely worth the long drive to catch a glimpse.  You won't believe that these photos haven't been photoshopped until you see the beauty for yourself.
3) You can almost be guaranteed to experience a real snow fall
We do get snow in Scotland however, it very rarely lies on the ground.  Whether you see snow or not will be very much dependent on where in Scotland you are travelling to.  Freezing conditions and snow are more likely to be found in the North whilst the West may experience more rain and snow than the East.  In general, you can expect cold and crisp weather so you should definitely pack some thermal clothes especially if you intend to do any of the Winter walks.
4) You may be able to spot some winter wildlife
During your adventures around Scotland, you may be able to spot some traditional Scottish wildlife.  Scotland is home to a diverse range of wildlife which can be found all over the country.  The red squirrel, red deer stag and Highland Cow are but a few of the rare Scottish species.
5) The Christmas markets in Scotland are fantastic
Although a fairly new concept to Scotland, the Christmas Markets are proving to be a huge hit for tourists and locals alike.  With the chance to taste some traditional festive food and drink, and shop for Christmas trinkets, what's not to love about the Christmas Markets?
6) You can experience St Andrew's Day celebrations
St Andrew's Day is celebrated annually on November 30th.  The St Andrews Day celebrations have been taking place in Scotland for over a thousand years and there is evidence of feasts being held in the Saint's honour as far back as 1000AD.  Families generally get together and celebrate Scottish culture, food and dance on this day by cooking traditional Scottish meals and listening to traditional Scottish music.
7) You can experience Burn's Night celebrations
January is often seen as a quiet month in the aftermath of Christmas and Hogmanay celebrations, and as Scotland is still in the grip of winter. However, Scotland's national poet, Robert Burns, was born on the 25th of January, giving the perfect excuse for a celebration that includes haggis, whisky, bagpipes, and, of course, reciting Burns' poetry.
8) You can indulge in Scottish winter comfort food
The fact that Scotland has long had harsh winters means that the nation's cuisine includes hearty comfort food. From the warming Scotch broth and cock-a-leekie soup to the simplicity of haggis, neeps and tatties, you will be filled and satisfied. Winter is also game season, so it's the perfect time to enjoy venison, pheasant and partridge. If you have a sweet tooth you may also enjoy Scotland's sugary puddings, such as butterscotch and tablet. Of course, we can't forget Scotland's most famous winter warmer for those cold nights, Scotch whisky.
9) If you are very lucky, you may be able to see the Northern Lights
Experiencing the Northern Lights is on many people's bucket lists and you may be able to witness these during your winter stay in Scotland.  Within some rurally secluded spots away from city light pollution, Scotland gives you a great chance of seeing the 'mirrie dancers' as they are known locally.  Of course there are no guarantees, but the further north you visit, the more likely you are to see these.
10) You can celebrate Hogmanay in style
Nowhere in the world does Hogmanay quite like Scotland (well, we are a little bias).   Hogmanay is the Scot's word for the last day of the year and Scots really know how to celebrate in style.  Customs vary throughout Scotland but include gift-giving, visiting the homes of friends and neighbours with special attention to the 'First Foot' – the first guest of the New Year.  Many of the major cities hold massive Hogmanay parties and it has become tradition to count down the New Year with friends and family at these events.
The team at Glasgow City Flats wish everyone a happy and warm Winter in Scotland.
Glasgow City Flats
Tel: 0141 226 3534
Email: enquiries@glasgowcityflats.com